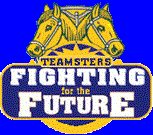 Teamster's Union Local 840
Official Site
We have developed this web site to keep the members and the public aware of the events of this struggle. We need your help and your support in achieving fairness for all.

News Flash!!!
The struggle has been settled!!!
Union members working on the Riverdale Campus of Manhattan College will vote Monday on a tentative contract settlement reached this afternoon. The workers are members of Local 840 of the Teamsters. The employer is the service contractor Sodexho Marriott Services. The new pact will provide fully paid family health insurance for the first time. It also will provide Martin Luther King's birthday as paid holiday and wage increases averaging 3.5.percent each year of the four year contract. Click here for the full press release.
Most people think it is a tragedy that 43 million people in America have no health insurance in the richest society on earth. Twenty-seven people on the Manhattan College Campus work without health insurance benefits. Our entire nation believes it is a right that Martin Luther King's birthday be a paid holiday, but January 18 is not a holiday for 27 people at Manhattan College.
ALL OF THIS IS WRONG!
We are the 27 union staff in the Housekeeping department. We earn an average of $7.50 an hour. We support households with 28 children. Our job gives us the "opportunity" to have family health coverage. None of us can afford the $353 a month it costs to get HMO coverage through our employer Sodexho Marriott Services. That translates to over 20% of gross pay or $1.53 an hour. As a result of these outrageous rates, only four workers pay for insuranc3e. Individual coverage is all anyone could possibly pay for, while eighteen families are forced to gamble with the health of twenty-two children.
Martin Luther King, Jr.'s birthday is recognized as a national holiday. It is a paid holiday for everyone at Manhattan College except for us. This should not be an issue in New York City in 1999. Unfortunately, it is. Martin Luther King, Jr. was assassinated while helping garbage collectors fight to get a Union Contract. The contract negotiations now stalled on campus are about two main ideas: to achieve health care benefits and the Martin Luther King, Jr. holiday.
Benefits that are "available" to everyone at a price nobody can afford is like having no benefits at all. Having the choice of paying for rent, food or health insurance is not a choice. We feel it is our moral obligation to insist we be treated fairly. We are simply seeking the same conditions other workers on the Manhattan campus receive. We are saying to our employer that we will no longer be treated like invisible second class citizens.
Our numbers are few, and our struggle has gone largely unnoticed. Our story is very fundamental to the labor movement. It should come as no surprise that working people would protest gambling with their children's health.
End second class citizenship!
Provide Health Insurance and the paid
Martin Luther King, Jr. holiday.
Also contained in our site:

Meet the faces behind the struggle See exactly who is suffering at the hands of unfair demands.

Download documents including letters of support, protest signs and information pamphlets.

Late breaking news which we'll update frequently to keep members and the public up to date on changes in the status of the struggle as well as any headway made.
Calendar of events listing upcoming rallies, speakers and forums as well as locations and times.

Links to other resources and sites on the web.

Contact Brother Thomas Scanlan, President of Manhattan College and voice your opinion.

Contact us if you have any questions, would like further information, would like to voice your support, or if you would like to help us.

---
Thank you for stopping by and taking time to learn about our strike. We hope this will end expediently, and appreciate any support you are willing to give. Please sign our petition, and feel free to write to us at:
Local 840
345 West 44th Street
New York City, NY 10036
---
Download documents | Late breaking news | Calendar of events | Links | Contact us